Every day we see the power of community: bringing together individuals who want to overcome a barrier with those who want to help out.
Our volunteers get as much from the process as do participants.
There's a wide age-range of people sharing their talents via our charitable societies, from students through to retirees, and all sorts of skills and backgrounds. What's common is people sharing something they love – access to leisure, social or employment opportunities – and a belief that communities can be fair and accessible. Contact us to talk more about opportunities.
Choose a program to find out more:

British Columbia Mobility Opportunities Society recruits hiking and paddling volunteers.
ConnecTra Society needs volunteers for outreach, and to take part in meetings & events.
Disabled Independent Gardeners Association always needs helping hands gardening and running workshops.
Disabled Sailing Association of BC relies on sailing volunteers, and people to help out on land.
Tetra Society of North America is fueled by volunteers who invent ingenious gizmos to overcome barriers.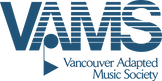 Vancouver Adapted Music Society needs people with a musical background to make music accessible.
The Disability Foundation needs volunteers too!
Our small staff at our Vancouver head office oversees these programs and would love to hear from people with general administrative, fundraising and communications skills. Make a difference, gain experience, build a portfolio…
Contact us to talk more.